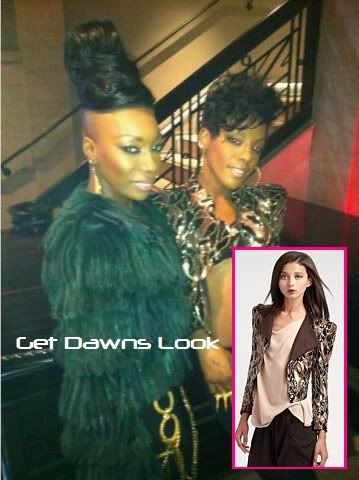 First of all...
Sorry folks. I've been really really busy trying to do something called MAKING DIRTY MONEY!! The reality is, I have to work to afford to do some of the things that I like to do. One of those things is shopping (go figure).
So what better way to use as a segway into Dawn's newest fliest look than to get you revved up with a new post on a fabulous find from Alice + Olivia.
Soon, you all will witness Dirty Money in Usher's new video "Looking For Love" (which features Dirty Money) probably next month (hopefully, right on time for LTTP). The video by the looks of it. Is beyond fierce. And Kalenna and Dawn both were seen rocking some AMAZING pieces that are poised to make them INTERNATIONAL style icons.
One of the pieces that has me personally a little hot under the collar, is this Alice + Olivia Sequined Jacket seen worn on our

FABULOUS

Dawn Richard!
You too can grind really hard like me and cop this amazing jacket at Saks for $797 (Ouch! Looks like Lady KYTOY will have to be homeless for about a month if she is gonna get this jacket, lol!! JK) However, luckily for you, if you are not willing become homeless for 30 days for the ACTUAL jacket, I have found some really neat alternatives to DO IT BIG! (affordable alternatives all UNDER $100) Enjoy ;0]